What if you never had to struggle to create an animation again?
With IDOL Movie Magic ℠ , there's no need to struggle with creating engaging and professional looking animations. You'll learn how to use Vyond animation software with mastery in less than 3 hours.
Not only are we professional Vyond animators IDOL courses™ is also an official Vyond partner.  
Tell me if this sounds like you:
Maybe you're seeking new opportunities or a promotion in corporate or higher education and you'd like to add a new tool and skill set to your resume and portfolio.
Or perhaps you're a freelancer who's getting clients that are requesting training videos.
Or perhaps you just want to stand out from the crowd in the eLearning industry with professional animations.
And maybe you've tried to use Vyond, but all your videos came out a tad amateur or wonky and you want to take your skills up to the next level.
What if there was a way to learn Vyond and professional animation tips at the same time to make you more appealing to clients and hiring managers?
What if there was a way to learn Vyond and earn a credential so that you not only have the training, but also the proof for your portfolio, social sites, and resume?
What if there is a Vyond training that can help you even if you've never even logged into Vyond before?
That's exactly why we created IDOL Movie Magic℠
We wanted to give you both the step by step guide to use the Vyond animation program, but also give you tips on how to make your videos polished, clean, and magical. We want to help you learn the skills to develop engaging animations and validate your efforts with a credential EVEN if you've never even used Vyond before.
Start learning animation principles and everything about the Vyond animation software in less than 3 hours with a course that includes 8 modules and 38 bite-sized video lessons. Each lesson is less than 5 minutes long!
ENROLL NOW $297
IDOL Movie Magic℠ is the guide to easily create professional Vyond animations in just 3 hours.
IDOL Movie Magic℠ is a step-by-step Vyond training program that walks you through everything in Vyond from the dashboard to branding your videos and creating a storyboard. You'll not only learn the program you'll also learn the rules of making great animations. 
Right now, you're struggling with creating fun and easy animations for your education, training, or marketing videos. Or your animations aren't quite looking as polished as you know they can be. And maybe, you've never even given Vyond a shot, but you know that if you're going to start you want to get it right the first time!
Imagine if you were able to create animated stories, training, explainer videos and more with ease. Your views go up and you're  getting rave reviews from your audience or your learners. 
This is exactly what IDOL Movie Magic℠ can do for you!
ENROLL NOW $297
So...why am I sharing this right now?
Hello, I'm Dr. Robin Sargent, and I help people in the learning and development industry upskill with a combination of training, activities, deliberate practice, resources, and templates.
I have been using Vyond animation for over 7 years (it used to be called GoAnimate) for companies, the medical field, non-profit organizations, and my own marketing for IDOL courses. 
In my signature program IDOL Academy I've been teaching Vyond and encouraging students to add animations to their portfolios. I've also brought in an expert animator from Cartoon Network to train Academy members the principles of animation applied to the Vyond software. And I found that the students need more than just principles of animation, they need a full tutorial on how to use Vyond also. 
Hence, the birth of IDOL Movie Magic. In collaboration with two of my IDOL courses Academy members we have created the best training for Vyond that is a combination of tutorials and best practices in animation. 
And because I'm a firm believer in deliberate practice this program includes activities and the opportunity to get professional feedback on your final project. 
Oh and since I love helping people move up in their IDOL careers or win more clients I've included a Vyond Animation credential so you can validate your training and skills with a digital badge.
Here's what's included
Abracadabra!
IDOL Movie Magic℠
8 Modules with 38 bite-sized training videos.
The Vyond Wand
A Vyond cheat sheet.
Enchanting Syllabus
The full course syllabus.
Transcripts
All the words for all the lessons.
IDOL Movie Magic Planner
Vyond Storyboard template you can use over and over again.
IDOL Potions
This is how one becomes a professional, practice. Each module has a practice activity.
IDOL Movie Magic: Professional Vyond Animations Credential
Verifiable digital badge can be earned when you submit a final project.
AN INTRODUCTION TO VYOND
Learn the fundamentals of Vyond like navigating the dashboard and making a new video. Get ready to build a solid foundation for your Vyond animations.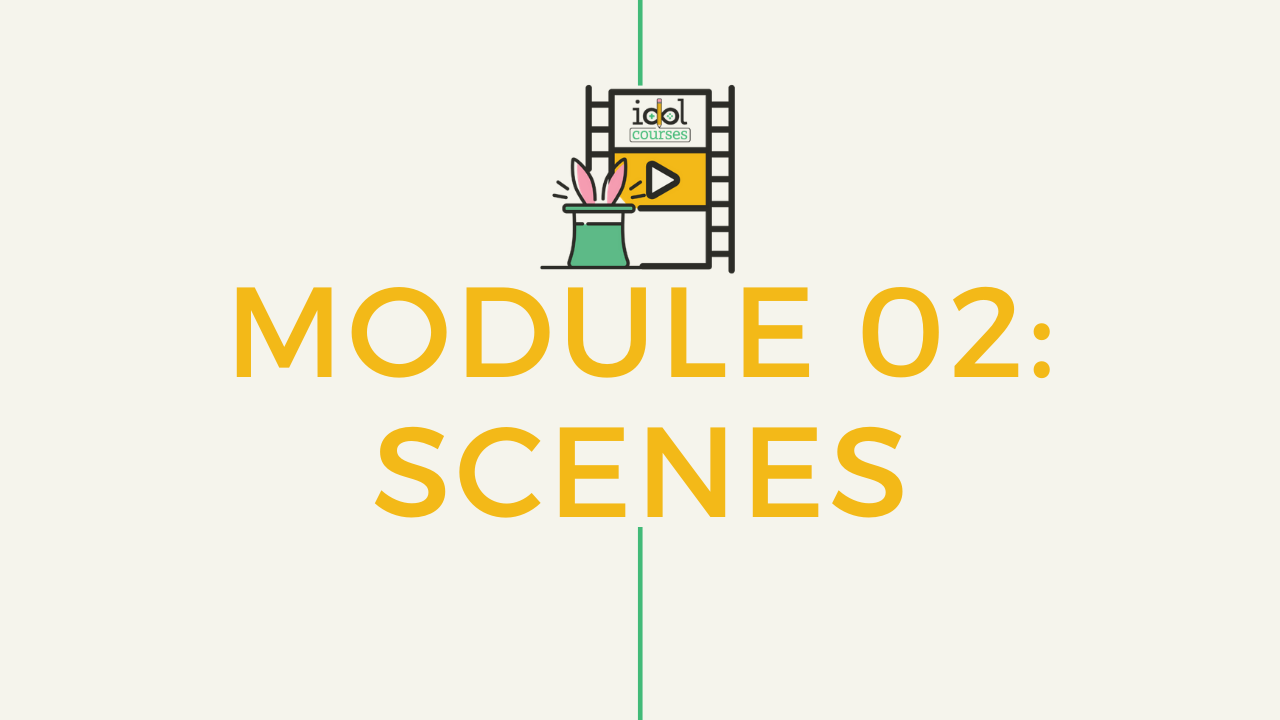 SCENES & TEMPLATES
In this module, you'll learn how to create a scene, duplicate a scene, continue a scene, save a scene as a template, insert a new or saved scene, search for a scene, scene animations, and transitions. You will learn how to edit scene backgrounds, how to add camera movement, motion paths, effects, and animations. You'll get rules of thumb for scene spacing, ideal video lengths, and scene consistency, so your videos look professional.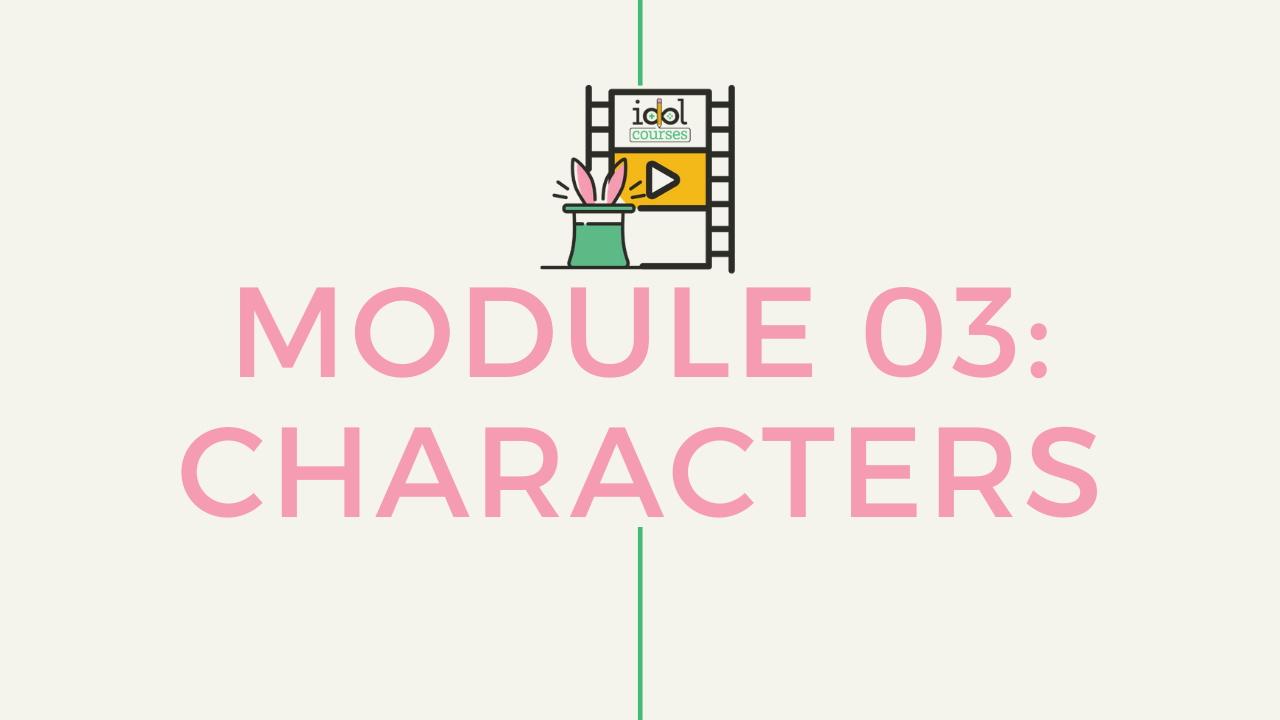 CHARACTERS
Here, you'll be guided through character categories, adding and replacing characters, character animation, character mirroring and flipping, character expressions, character actions, character sizing, character interactions, and character consistency.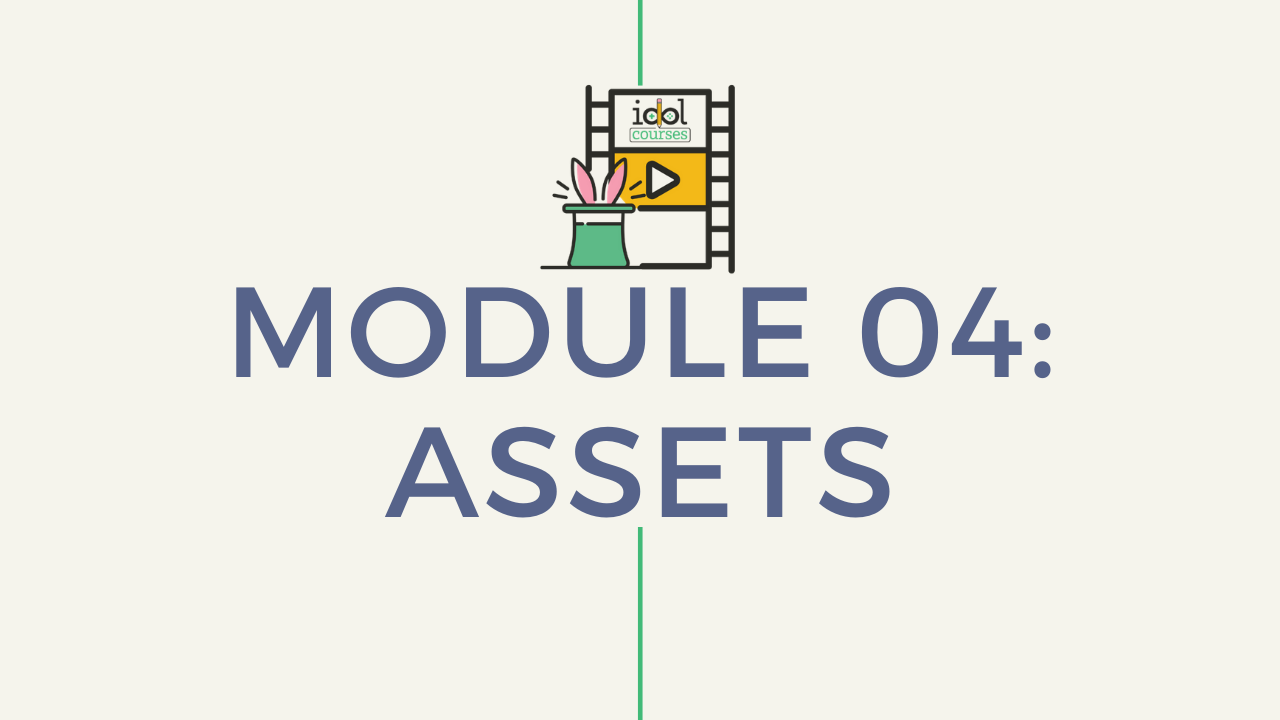 PROPS & ASSETS
You'll learn how to add, replace, and animate assets. We will cover how to edit, crop and mask assets, and identify appropriate use of assets and asset consistency.
MUSIC & SOUND EFFECTS
Learn the magic of how to search for music and sound effects, how to apply music or sound effects to a scene, how to edit volume and duration in settings, how to import your music and sound effects to Vyond, and the appropriate use of music and sound effects throughout a video.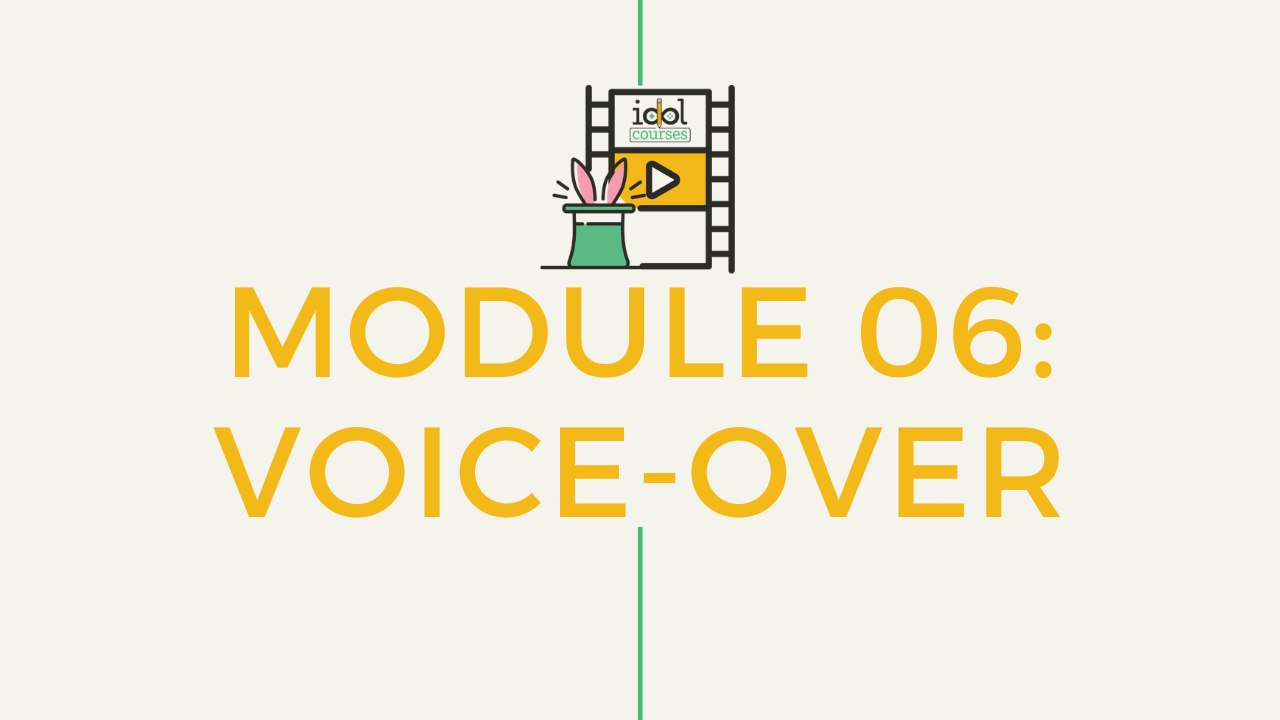 VOICE-OVER
Learn how to record and edit a voice-over in Vyond. We will discuss how to import a recorded voice-over and how to edit and split an imported voice-over in Vyond. You will also learn how to use Vyond's Text-to-Speech option, including character lip-syncing, how to balance voice-overs with sound effects and music, and how to sync the voice-over with video animation.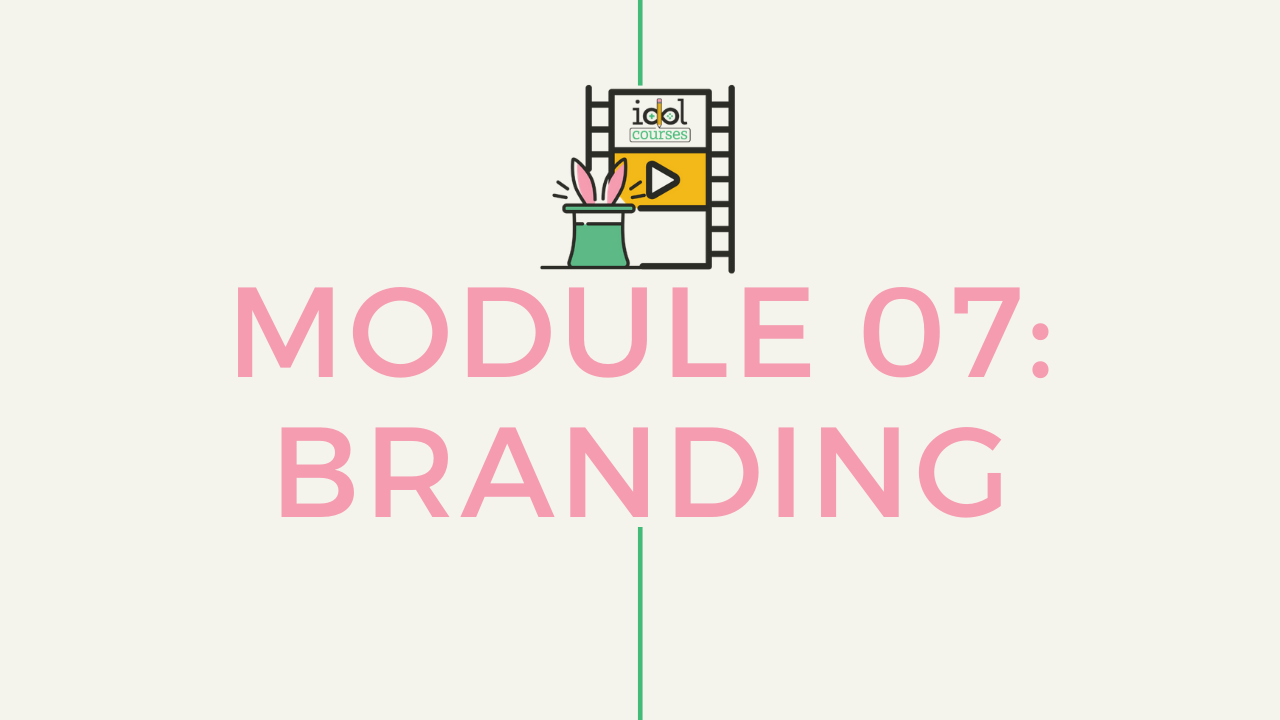 BRANDING
Keeping your videos consistent is how you'll give them polish! This module will cover branding your videos, including how to create a storyboard, brand backgrounds, and templates, scene styling, as well as saving and applying brand colors, fonts, sounds, music, characters, and logo.
EXPORTING & SHARING
This is the fun part! When you've completed your project you need to learn how to preview your video and how to share your videos with other Vyond team members. We discuss how to export your videos in various formats. You will learn how to manage your video library, including copying videos, renaming videos, previewing videos, and creating and organizing Vyond folders.
ENROLL NOW $297
All the things so you can make IDOL Movie Magic!
Here's what's included.
IDOL Movie Magic℠ 
8 Modules with 38 Short Videos- This course is jam packed with 38 micro videos to walk you through all of Vyond and animation principles. Go step by step, skip around, and use the course as a handy reference guide. ($500-value)
Enchanting Syllabus
This 5 page syllabus includes a description of each module and a way to quickly identify the topics for each lesson in the course.($50-value)
IDOL Movie Magic Planner℠
Not only is this a storyboard template so you can write out your design it's also a Canva template you can use in your own FREE Canva account. You can reuse this template over and over again for all your animation projects.($50-value)
The Vyond Wand
The 4 page cheat sheet with all the tips that will keep your animations consistent and high quality.($50-value)
IDOL Potions
Take action for every module and implement what you learn with a guided practice activity. ($100-value)
IDOL Movie Magic: Professional Vyond Animations Credential
You can earn a verifiable credential for the skills you learn in IDOL Movie Magic℠. This digital badge is issued by IDOL courses through Credly and hosted on Acclaim so clients, bosses, hiring managers, and friends can see and validate your abilities on LinkedIn, Facebook, Twitter, your email signature, or your website. Once you earn the IDOL Movie Magic credential it never expires. ($900-value)
Everlasting Life
Lifetime Access to the Materials- Vyond makes updates and changes. Which means when it does we'll be updating IDOL Movie Magic. You'll have access to the materials and all updates, forever! (priceless)
Who is IDOL Movie Magic℠ for?
IDOL Movie Magic℠ is right for any--yes, any--body that wants to create Vyond animations that look sleek and professional. 
Whether you're an instructional designer or a Human Resources specialist IDOL Movie Magic℠ is for you.
Instructional Designers & eLearning Developers
Creating animated videos for your eLearning creations can be a great way to show a process, tell a story, demonstrate concepts, and grab attention! Whether you create training for corporate or higher education you can enhance your content with animations. And the Vyond software skill is showing up as a job requirement for many of the new instructional design and eLearning positions. This means learning to create animated videos will help your learners and your career. Win win!
Human Resources
As someone who works in Human Resources you need a way to improve collaboration, communication, and culture. Animated video is an excellent way to achieve these goals and get your message across. You can create short animations in your companies' brand for announcements, new policies, and other updates you want to share. IDOL Movie Magic gives you another skill and tool for your people and your career.
Marketing Professionals
As a marketer you know the power video can have on your campaigns. Video based ads have higher click through rates. Not only that, creating animations in Vyond lets you create marketing videos fast! Once you've learned IDOL Movie Magic you'll not only be able to create videos quickly you'll be able to make them sleek and professional. You can use the animations for product explainers, social media videos, or ads. Creating your own videos will save your marketing efforts time and money.
Teachers
As a teacher you know that kids LOVE animated videos. You also know how difficult it is to keep or get their attention. You can create animated videos for your online school or classroom. Use Vyond animations for teaching a lesson, sharing an announcement, telling a story, or celebrating a success. Once you learn the Vyond program you can turn out several animated videos in a short amount of time to keep your learners engaged and your stress level down. IDOL Movie Magic will not only walk you through all the steps of the software, but also teach you the principles of animation so you can easily create professional Vyond animations.
HERE'S HOW THIS WORKS
Ready to get started?
Click the Button
Select the ENROLL NOW button, and then you'll be taken to the check out page so you can securely purchase IDOL Movie Magic℠. 
ENROLL NOW $297
Check Your Inbox
After you complete the checkout you'll get an email with your login information so you can jump in and get started today!
IDOL Movie Magic™
Follow along in the IDOL Movie Magic℠ course so you can easily create professional Vyond animations fast.
Earn Your Credential
Finish the lessons and apply the IDOL Potions (practice activites). At the end you'll create and submit your final project to earn your IDOL Movie Magic℠: Professional Animations credential.
Frequently Asked Questions
Got a question that's not answered here? Email [email protected] or call 786-453-5895
How long does the course take?
How do I earn the Professional Animations Credential?
How long do I have access to the course?
What if I've never created an animated video before?
What if I don't have a Vyond Subscription?
This is the only Vyond Animation training of its kind. 
Enroll in IDOL Movie Magic℠ so you can create the best animations for your audience with a badge to prove it!
SIGN ME UP!