Career Changers: Showcase Projects on Your Resume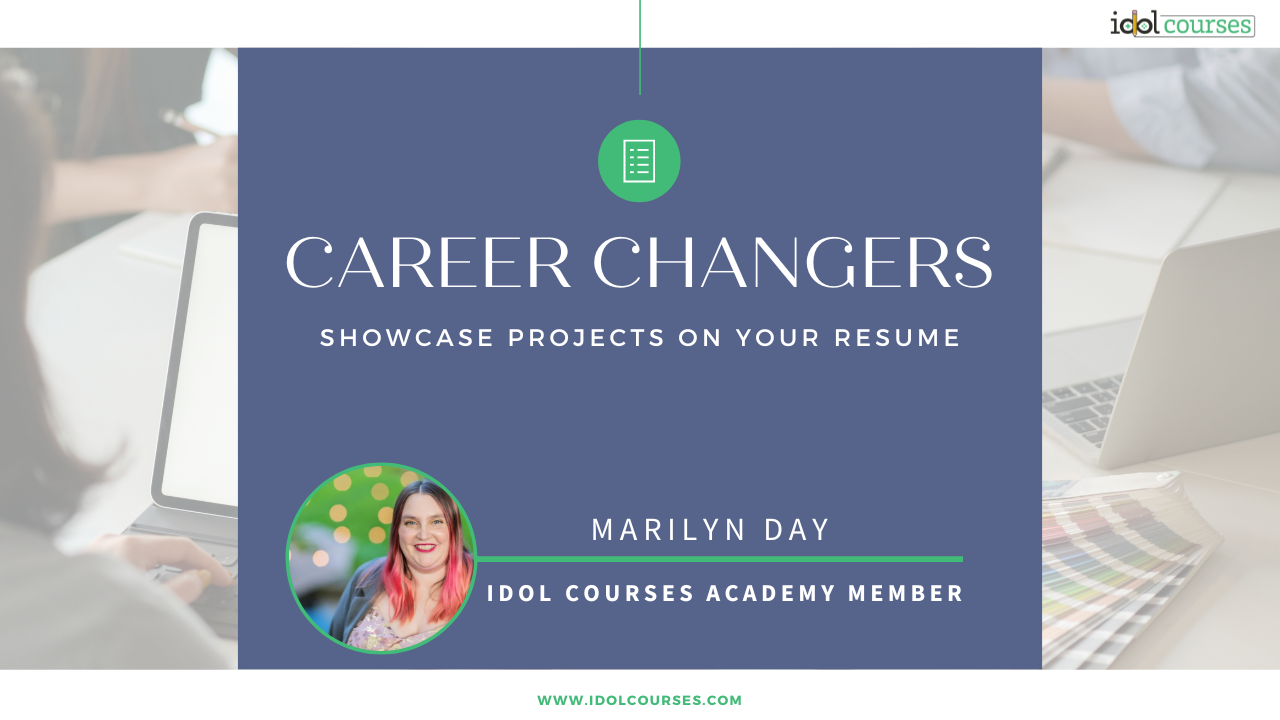 As a career changer, it can be difficult to showcase your instructional design (ID) skills when you haven't had a chance to use them full-time. Standard resume advice is to write accomplishment statements for your work history. There is value in including transferable skills alongside accomplishments when they relate to your desired role. If you have a strong employment section but are not getting traction in your job search, strengthen your resume by adding a project section.
As a career coach for technical boot camps, I became familiar with project sections. I encouraged my students to showcase their best projects near the top of their resumes, even though they included the same information in their portfolios and GitHub pages. Students who showcased two to three of their best projects throughout their materials would gain traction in their job search. When they made it to the first recruiter call, we knew their resume was working.
When it came time for my own job search, even though it was in a different field, I followed in the footsteps of technical resumes. Throughout my career, I had designed and developed training for adults, but it wasn't the primary focus of my roles. While I included relevant information in my employment history, I wanted to keep the attention on my new skills.
I chose projects that were a mix of portfolio pieces and actual work samples. The portfolio pieces demonstrated skill with Storyline and Rise, the top tools in the field. One work sample was from volunteering with Rumie Learn. While I listed this volunteer experience on my resume, it was near the end. Using the project section helped me shine a spotlight on my direct experience as a volunteer learning designer.
Throughout my job search, my project section evolved based on my goals and the new projects I created. It helped me land my first few jobs in instructional design, and I hope it does the same for you.
Before you add this section to your resume, you'll need projects! IDOL courses Academy® provides coach and peer feedback on your assets, so you're confident you're putting your best work forward.
Follow these four best practices to create an eye-catching project section:
Add the projects section near the top of your resume

so it's one of the first things recruiters see. Immediately summarizing your projects draws attention to your ID skills and experience. It doesn't rely on a recruiter clicking on your portfolio link and knowing where to navigate. Give your audience the information they need at-a-glance. This strategy works well for

career changers

as it focuses on your new skill set.
Choose two to three of your best projects

to feature on your resume. List the project title and link with bullet points describing the project and tools used. You don't need to go into too much detail here, especially if you link to a case study on your portfolio. The goal is to gain your audience's attention so that they want to learn more and keep reading.
When crafting bullet points, include your skills in context.

Select projects that are relevant to the role. Change your language to connect it to the job description as needed.
Use this worksheet to generate the content for your project section. Download the PDF to type directly in the form. The worksheet prompts you to brainstorm your project's tools, timeline, actions, and results. As a bonus, it includes suggested action verbs.
Use clickable links on your project titles

instead of written-out URLs for the best user experience. That way, a recruiter looking at your resume can click directly on the project they want to see. An applicant tracking system (ATS) may convert an uploaded document to plain text, but remember, an ATS is only a digital filing cabinet. Recruiters can still access your uploaded document. Make their job easy, so they spend less time using copy and paste and more time reading your content.
Instructional design projects may be different from technical projects for web developers, but the same concept applies. Showcase your best projects at the top of your resume. Recruiters will know you are an instructional designer, even without the title.
Bio:
Marilyn Day has worked in EdTech as a career coach for eight years. She transitioned into instructional design after enrolling in IDOL courses Academy®, Cohort 8. She creates engaging content that empowers adult learners to take an active role in their learning. Currently, she is an Instructional Designer for Magnit, creating eLearning courses for Google Data Centers. View her #DoItMessy portfolio and follow her on LinkedIn for resume tips and Simpsons references.